C-Chase's Labradors
BRAGGIN' RIGHTS
*****NEW CHAMPION*****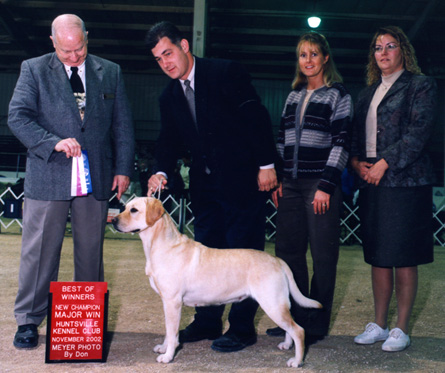 CHAMPION CHASE'S SPRING FEVER
CONGRATULATIONS TO: CH. CHASE'S SPRING FEVER
SHE HAS FINISHED HER CHAMPIONSHIP IN GRAND STYLE. SHE IS A STONE AND PATTY DAUGHTER AND BOTH MOM AND DAD ARE VERY PROUD. THANKS TO ANGIE AND SCOTT TEEMS HER OWNERS FOR THEIR HARD WORK AND PATIENCE IN GETTING "SHELBY" FINISHED. SHE HAS HER HIPS CERTIFIED OFA GOOD AND HER EYES CERF CERTIFIED AND WAS BRED TO AM/CAN CH. CLARION'S BAD AS I WANNA BE, CD, MH, WC, WCX, CGC "HOOPER". THIS WAS AN EXTRAORDINARY LITTER. WATCH FOR HER BABIES IN ALL ASPECTS OF SHOWING.

*****MORE TITLES*****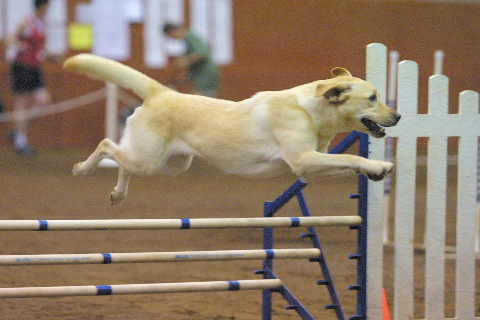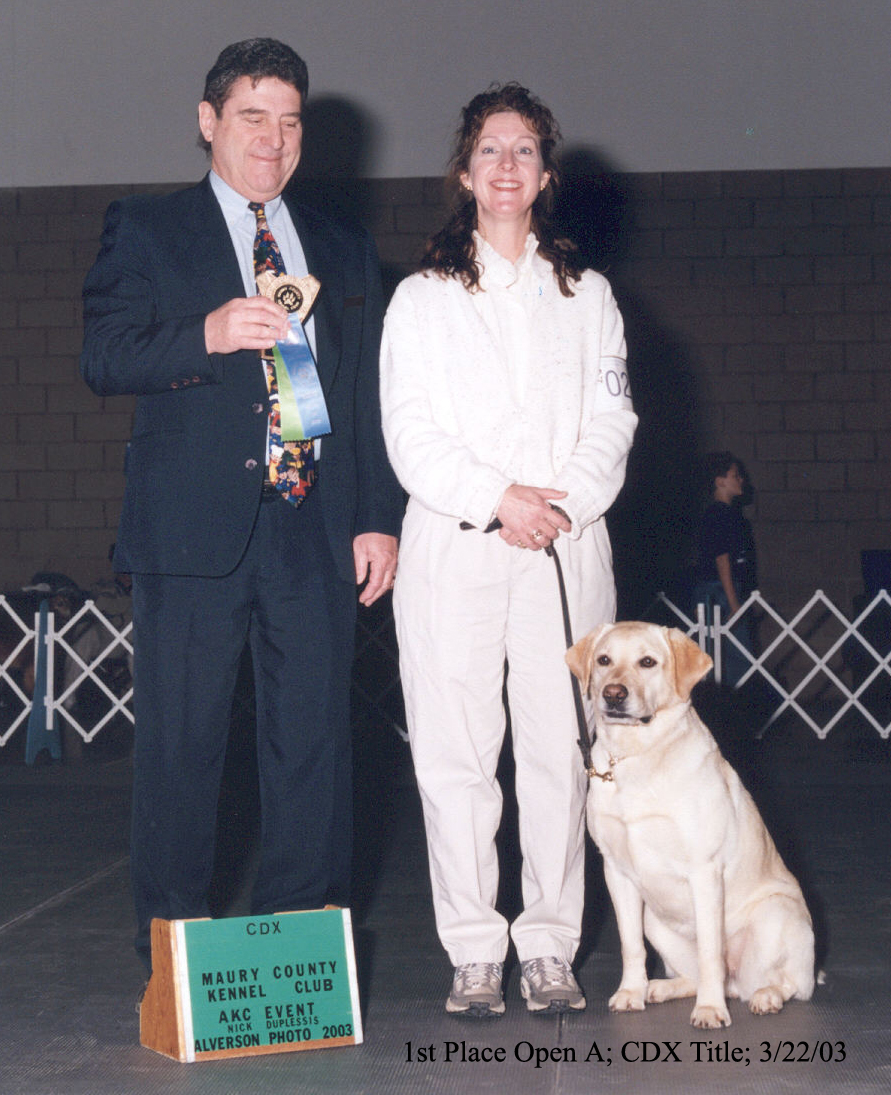 CHASE'S WIND IN THE WILLOWS, CDX, MX, MXJ, CGC
CONGRATULATIONS TO: CHASE'S WIND IN THE WILLOWS, CDX, MX, MXJ, CGC SHE EARNED HER OA, OAJ, AX, AXJ AND MXJ IN 14 MONTHS. SHE EARNED ALL 10 MXJ LEGS IN 8 SHOW WEEKENDS AND IS WELL ON HER WAY TO A MACH. WILLOW DEBUTED IN OPEN A IN MARCH 2003, EARNING HER FIRST CDX LEG WITH A SPECTACULAR SCORE OF 198, INCLUDING A PERFECT 40-POINT HEELING SCORE. SHE FINISHED HER CDX IN THREE CONSECUTIVE WEEKENDS WITH 7 PLACEMENTS, ACCUMULATING 43 FIRST & FOREMOST POINTS AND 47 DELANY POINTS IN 60 DAYS. THANKS TO KIM CRENSHAW AND KAREN PETERLIN FOR ALL THEIR HARD WORK AND SERIOUS TRAINING TO MAKE WILLOW WHAT SHE IS TODAY. KEEP UP THE HARD WORK!

Gordon Setters
"We no longer breed but in loving memory I wanted to leave Flirt's picture up on my site."
*****NEW CHAMPION*****
AM CHAMPION HEAVENLY FLIRTATION AT CHASE, CGC
"PASSED AWAY"
Flirt is our first Gordon Setter American Champion. She has a 5 point major to her credit. She has absolutely beautiful movement a wonderful head piece and a great personality to bring it all together. Flirt has OFA Excellent and her eyes CERF certified.

*****WORKING ON MORE TITLES*****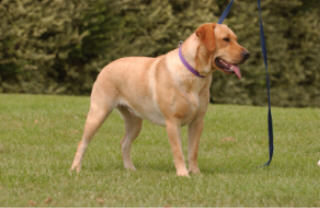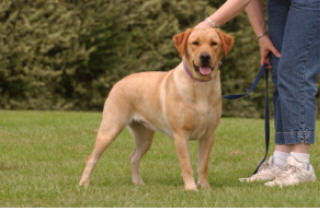 "SUMMER" owned by Candy Nettles in Tulsa, Oklahoma
Was in her first agility
trial, and received perfect scores in both Novice B
Standard and Novice B Jumpers w/weaves. So she is well
on her way to earning her first agility title.

*****MORE TITLES*****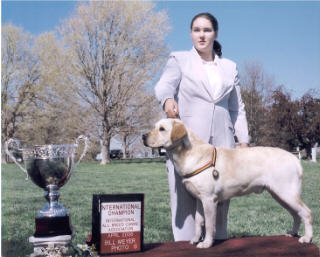 INTERNATIONAL CHAMPION CHASE'S FORCE N' THE BLITZ
Congratulations to "Blitz" and Chelsey for earning their International Championship in April of 2006. Look for them in the shows this year.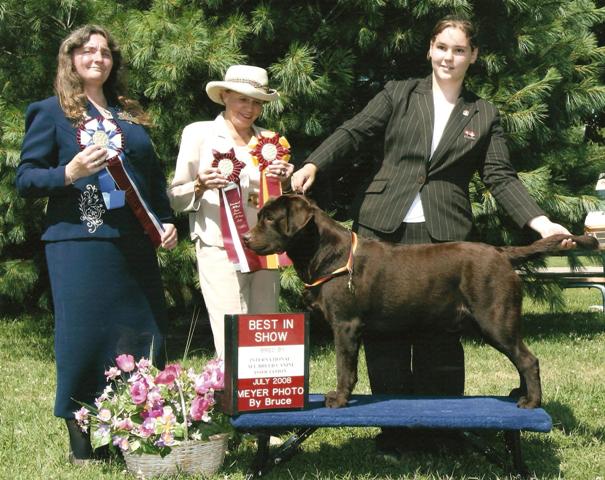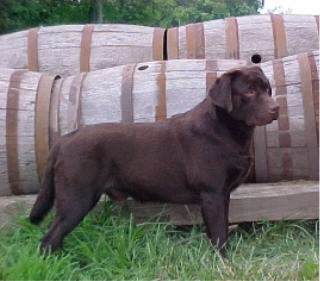 CHASE'S KODIAK BEAR OF THE SOUTH "KODY"
KODY FINISHED HIS INTERNATIONAL CHAMPIONSHIP ON 7-13-08 WITH MY DAUGHTER CHELSEY SHOWING HIM AND RECEIVED BEST IN SHOW BRED BY EXHIBITOR TO BOOT!

*****NEW CHAMPION*****
AM CH. CHASE'S ASHLAND JOINT VENTURE
VINNY FINISHED HIS CHAMPIONSHIP WITH A GROUP EFFORT. ME, MY DAUGHTER, CHELSEY AND THE CO-OWNER ALL SHOWED HIM UNTIL HE WAS SINGLED OUT. NEXT, HE WAS HANDED OFF TO ERIN HALL AND FINISHED HIS CHAMPIONSHIP ON JULY 2, 2010....18 DAYS SHY OF HIS SECOND BIRTHDAY! WE ARE VERY PROUD OF HIM.

home / the boys / the ladies

the nursery& older puppies / puppy info / photo album / braggin rights /

Chelsey & Chase /
LARRY AND SHARYL BARNES
3706 HWY 231 NORTH
SHELBYVILLE, TN 37160
(931)437-2365
Copyright © 2000-2012